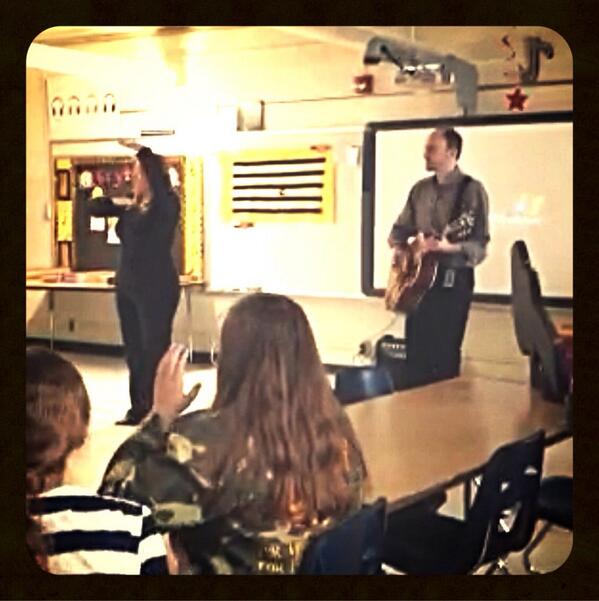 Crystal Owen and me introducing our math music video project
2014 will mark three years since I started this blog. My early posts focused mostly on some games I created for Promethean boards and response systems.
Three more years of putting the theories of my studies into practice have led to a much wider spectrum of topics. Most recently they highlight the creative work and insights that have made this year the best of my career.

I now can write about better games, tech tips for many applications and deeper insights into what's really going on in school. Most exciting for me personally has been the increase in work with music.

My role in education is like oil in the machine. Most of what I do isn't the main point, but it's vital to keep things running.


I was happy to find my list of top 10 posts (in terms of views) written this year reveals this. It includes a good mix of all of these topics and many came from the past four months. Here they are in order, starting with the most popular.
6 Ways to Teach Like an Artist
- I'm so grateful to find this was my most viewed new post. The thoughts behind this one sum up not just a year, but my career of 20 years in education (and maybe 40 years of going to school). I like this original post, but the ideas that emerged from it have led to
a theme and series of posts
that reveal my journey. It has been my gift and message this school year.
Coming Soon - The Creativity Game of Movie Trailers
- This final creativity game marked a turn in my attention from classroom games. It stems from a dream project, far more significant than just a game, and I'm glad to see it got attention over the months since I created it.
My Attempt to Encourage Creativity
- I'm a little hesitant to include this one, but I am glad people found it useful. When a group of students were afraid to make their own music video, I decided I better take the plunge first. I'm not a vocalist and my video is one of the few I made that has a thumbs-down on YouTube, but it made my point and kicked off
my favorite project of my career
.
6 Reasons Your Students Need to See Your Mediocre Art
- Back to my artist theme, this one comes from my personal experience of sharing my less than amazing talents. It meant a lot to me that
Kevin Honeycutt
tweeted about this one. He is directly responsible for the thoughts behind it and his attention to it helped it make this list.
Middle School Music Video Project
- At the end of March I finally completed my first music video project with a class. Everything else was in theory, but this first attempt brought it altogether and the results made my year the best yet as a teacher. Two things worth mentioning: